Art of Learning
Remember when you sang songs in school, and worked with clay and paints?
Today's public school curriculum leaves little room for the arts. Creative, collaborative activity in the arts is proven to raise self-esteem, enhance learning in other subjects, and is a wonderful vehicle of expression and success for students, regardless of their abilities in the core academics. For over 30 years, SKEA artists have gone into the schools for projects in pottery, drama, dance, music, sculpture, and the visual arts.
At the beginning of each school year, our Art of Learning program director holds a Meet and Greet with classroom teachers and teaching artists at each school that we serve. Classroom teachers learn about the program, who the artists are, and what projects are being offered for their students. Projects may be just one session in the classroom or a series of sessions, but the focus is always on careful preparation and communication, so that each lesson enhances the curriculum, delivering quality content that engages the students.
We serve 5 area schools: Ho`okena Elementary School, Konawaena Elementary, Konawaena Middle School, Konawaena High School, and Ke Kula O Ehunuikaimalino Hawaiian Immersion Public Charter School.
If you are a teacher and interested in having a SKEA teaching artist visit your classroom, please contact the office at 808-328-9392 or email us at:

[email protected]
"The most memorable moments were with the maquette class, as they were surprised at how well their sculptures turned out. One student who created a horse made a statement that she never thought she could do it, and it was better than she imagined it when it was finished. Everyone was so engaged in making their original creatures from clay and wire, they would show up early to work on them."
— Jin An Wong, SKEA teaching artist, Ho`okena School
Art Camp
Spring, fall, and summer breaks are a time for creative fun at SKEA. Children ages 6-11 take part in pottery, drawing, painting, dancing, music, drama, and theatre arts, just to name a few of the many engaging projects that our children come back for year after year.
You may call or email the office to hold a spot for your child. However, we must receive your signed registration and a deposit before we can confirm.
To complete your registration for a camp or children's workshop:
Fill out the signed registration form and email it back to us. You may make your payment on the Donate page using Pay Pal. We will email you a confirmation.
There will also be registration forms on the bulletin board by the SKEA office (in the cottage) and you may fill it out and slip it under the door, along with your check. We will contact you with a confirmation.
Call us and we can make arrangements to meet with you in the office.
If you are requesting a scholarship, please send in your registration and scholarship application without payment and we will get back to you.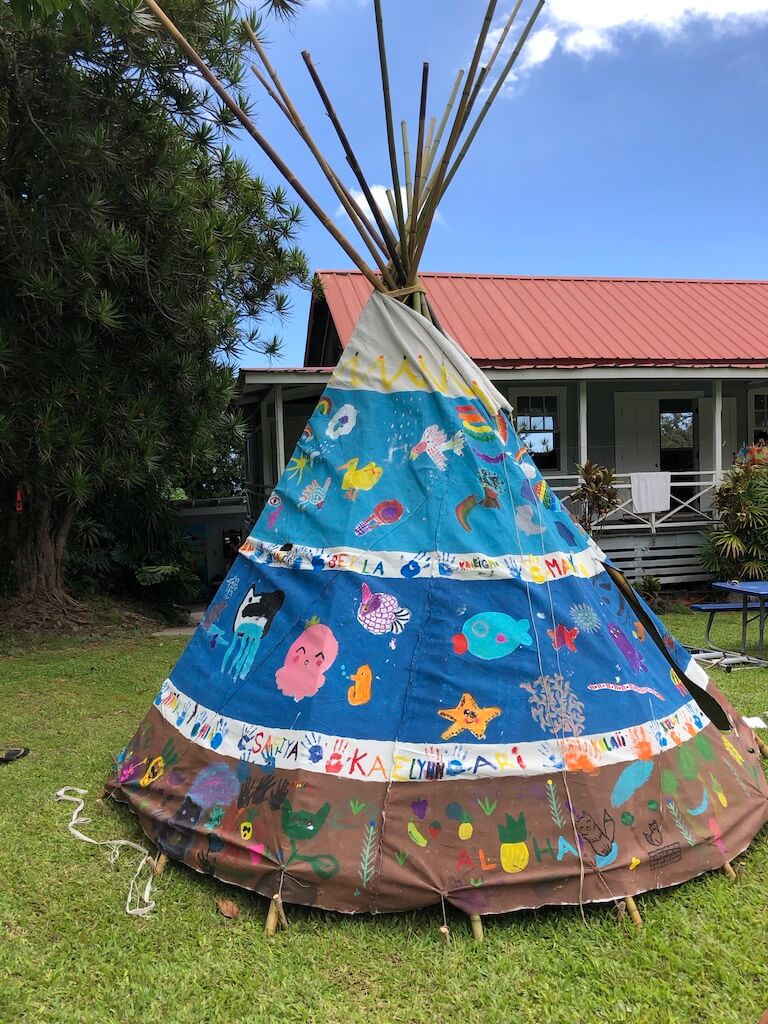 "Something special happens at this camp. As an educator I see the need for our Keiki to have engaging enrichment experiences outside of school that foster multiple intelligences. SKEA art camp provides children with this opportunity. "
— Joy Personius, school counselor, SKEA teaching artist, and on-site supervisor for the art camp
Youth Programs Calendar of Events
For our full calendar of all events including classes, click here.
SKEA
84-5191 Mamalahoa Hwy, Captain Cook
This class is meeting in-person. Barre fuses the best of Pilates, yoga, aerobics, and strength training. It is an amazing workout that will lengthen, strengthen, and tone your body, helping ... Read More about Barre Fitness
SKEA
84-5191 Mamalahoa Hwy, Captain Cook
Currently meeting in-person. Youth ages 6-15. Goju-Ryu Karate Do is weaponless self defense and awareness training. It is an excellent form for development of deepened respect, self-control, discipline, and focus. ... Read More about Karate Youth